This is the article about the creator of Stupid Mario Bros. If you are looking for the creator of Sheldon & Mr. Randoms, click here.
Anthony (Lazyboy2013)

[[|256px]]
'

Flipnote Views

Over 24,000,000

Stars

Over 39,000,000

Comments Received

Over 1,300,000

Fans

Over 100,000
Anthony was a creator on Flipnote Hatena. He was known for his series Stupid Mario Bros. (an animated series based on the widely known web series of the same name). Each episode reached nearly or more than 100,000 views. There have been 45 episodes and a "movie" consisting of 23 installments.
Stupid Mario Bros.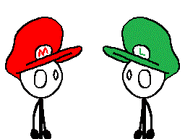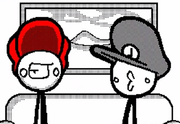 Stupid Mario Bros (SMB) is Anthony's most and only popular Flipnote series. It is an adaptation of a popular web series by
Richalvarez
. It was created shortly after joining Flipnote Hatena in August of 2010 and experienced a rapid growth in popularity. The name was later changed to simply "SMB" so as to avoid copyright infringement of the original series on YouTube. Later on, the creator made the decision to create an SMB movie. As the months went on, he realized that the series would take an undesirable amount of time, and so a portion of it was cut. Shortly after New Year's Day 2012, Anthony announced that after "SMB: The Movie," the show would officially conclude. He stated that the rate he was progressing at was much too slow, and that the series would not be completed for about three years. On September 13th, 2012, he stated that part 23 of the movie, which was published on September 30th, would conclude the series.
Song Parodies
Along with SMB, Anthony also has a history of writing parodies of overplayed songs. Examples include You're a Stalker, Monday, and Video Games.
Popular Flipnotes
Mike and Ike are two characters named after his favorite candy Mike and Ike. They has been featured in 2 flipnotes: "Mind Control" and "Knock Knock". He also made a tribute to the series "Flipnote Mario" and later made a series "Epic Mario" in the style of Flipnote Mario. However, during November 2011 Anthony confessed that he had been tracing some flips (including Flipnote and Epic Mario). He then stopped tracing and cancelled the rest of Epic Mario. He has also created a mini series known as "Locked" involving himself getting locked out of his own creator's room and being forced to live in a dilapidated hotel.
Flipnote ID
You can view Anthony's past flipnotes through the Flipnote 3D Dsi library using this code:
5599F43051050CC2