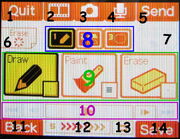 The
Flipnote Studio menu screen
provides many different functions.
Functions
Quit editing and return to the start screen.
Go to the page tools screen.
Go to the camera tools screen.
Go to the music tools screen.
Send the Flipnote to a friend.
Erase the selected layer of the current page.
Undo/Redo. Undo or redo the last action(s).
Tool selection. Select here the drawing tools, layer tools or selection tools.
Tool display area. In this area are the current selected tools displayed.
Page selection and play controls. Here you can jump to the first or last page. Go to the previous or next page. And you can start or stop the Flipnote.
Go back to the canvas screen.
The frame rate of the current Flipnote.
Select here if your Flipnote should loop or not.
Save your Flipnote.