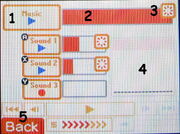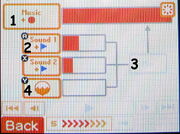 On the
music tools
screen you can add a music track and sound effects to your Flipnote.
The button labeled 'Music' will record for the duration of your Flipnote, but the maximum recording time is one minute[1]. The buttons labeled 'Sound 1, Sound 2, Sound 3' can each record 2 seconds.
Pressing the L-button lets you load sounds recorded with the Nintendo DSi Sound app from system memory. In case something is already recorded to "Music", you can record overdubs to it.
↑

Create a Flipnote at speed 1 with more than 30 pages. Music recording will always stop at page 30, which equals 1 minute.