Paytonic




Username

Paytonic

Hatena ID

None

Joined

N/A

Fans

N/A

Posted Flipnotes

N/A
Paytonic is a Flipnote Studio animator who never joined Flipnote Hatena. He has not released any of his Flipnotes to the Internet.
History
Several months after Paytonic began animating, his Nintendo DSi was dropped and broken. The sensors on the touch screen are now insensitive, so in certain areas of the touch screen, the pen does not follow the stylus's path. He has also lost his only stylus and now uses a pencil, which causes some blurriness on the screen.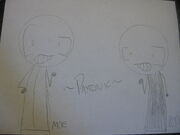 Original Characters
Paytonic's original characters (or OCs) are Moe and Len. Moe is the older brother of Len. Both Moe and Len love doughnuts and the Halo video game. Moe likes creme donuts while Len prefers chocolate-frosted ones. In earlier Flipnotes, Moe had a crazy "mohawk"-type hair style, but this trait was removed in a Flipnote in which Moe went to a barbershop. Paytonic claims that he changed the character design because Moe's hair would consume too much space on the small Flipnote Studio screen. He also has a hoodless, white jacket on. Len wears a gray-black shirt.
See Also