Qwertyioup




Username

Qwertyioup

Hatena ID

Qwertyioup

Joined

2011

Fans

1500+

Posted Flipnotes

250+
Qwertyioup was a creator on Flipnote Hatena. On Hatena, he claims that his full name is "Matthew Lastnamegoeshere."
Description
Qwertyioup's most popular Flipnote was titled "Big Night," a music video using the song of the same name by Big Time Rush. His Flipnotes starred two main characters: Q-BE, a stick figure with a baseball cap, and Weezy, a floating, ghost-like character with futuristic glasses and a W-Shaped crown. Qwertyioup has a Nintendo DSi system and a Nintendo 3DS system. He joined Hatena in August of 2010. His first Flipnote was a music video using the song "Our Work is Never Over" (a spin-off of the Our Work is Never Over Flipnote in the TeenChat series). It was not very popular, and Qwertyioup has improved since.
Characters
Q-BE
Q-BE (pronounced "cube") was first created at a rock wall climbing building. He has a baseball cap with a red "Q" on the front. He was the first of Qwertyioup's characters. His best friend is Weezy, a ghost-like being. As a human, he wears an orange long sleeved shirt and blue sweat pants. He looks similar to a baby. His hat is too large for his head, and Q-BE has to hold it up frequently. Q-BE has never taken off his hat before, and never will.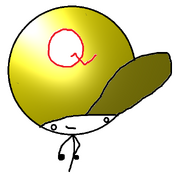 Weezy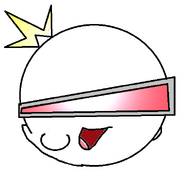 Weezy was Qwertyioup's second character (third counting the unused Brian character). Weezy was first introduced by the user Snivyz, with futuristic glasses and a red cap. His version appeared in an icon contest by Qwertyioup. Qwertyioup gave him a name, and changed the hat to a crown shaped like a "W." Weezy is not used as much in music videos as Q-BE. He is with Q-BE all the time, but does not sing.
Brian
Brian was an unused character of Qwertyioup's. He is not concidered a main character because he only appears in several posts. He is a stick figure with three hairs on the top of his head.
Gallery
Trivia
Qwertyioup knows the Hatena user Snivyz in real life.